Center for Family Success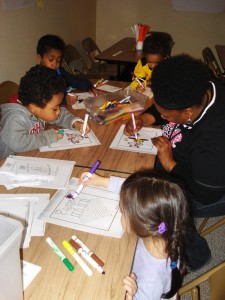 The Center for Family Success' mission is to improve outcomes for children of justice involved parents through supporting their parents with valuable programs and services that foster parents' successful return to community and family. With a focus on self-sufficiency and family reunification, the Center works to break the intergenerational cycle of criminality, serving the needs of parents, children and the community.
Key Center programs include:
Classes

Parenting Inside Out. Parenting Inside Out (PIO) is a parent management skills program for justice involved parents. PIO gives parents the skills to successfully reintegrate with their families and to parent their children in healthy, prosocial ways. The class is available in English and in Spanish.
Healthy Relationships: Successful Families. Health Relationships: Successful Families is an evidence informed program, with the goal to keep children safely at home through family violence prevention. The class is offered in English and Spanish.
Building Successful Families.BSF is a class expressly designed for young parents that combines components of both PIO and HR:SF to meet the unique needs of this population. The objective of this class is to keep young parents engaged with their families and children while working to avoid the cycle of criminality.
Anger Management. In this 12-week class, participants learn a wide variety of techniques for expressing anger in an appropriate way.

Home visiting program. Center staff who are experts in early childhood provide home visits to families with children ages 0-6. Visits entail coached parenting time, providing advocacy for families, and teaching developmentally-appropriate parenting tools.
Advocacy and wraparound support. Center advocates provide individual and family support to clients, including attending court dates with clients, calling agents on clients' behalf, helping clients set and achieve goals, mediating conflicts, providing parenting consultations, giving community referrals, and helping clients secure immediate and long term resources, etc.
Family engagement events.

The Center provides free family engagement events at least once a month, which allow parents and children to have fun in a pro-social environment, to gain peer support, and to build needed bonds.

Specialized programming for middle-school youth. RISE provides middle-school youth with academic support, pro-social activities, navigation assistance, and advocacy/case management. Parents of RISE youth engage in family programming at the Center, enabling a wrap-around support model.
The Center for Family Success opened in St. Johns in 2004. As our clients moved farther out into East Multnomah County, we recognized that to best serve them we needed to be in their neighborhood. The Center moved to Rockwood in 2007, where it continues to serve more than 400 justice involved families every year.
The Center's unique staff and volunteer base consists, in part, of former and current successful program participants. The Center incorporates the knowledge and experience of the impacted community to shape its services and to provide valuable peer-to-peer advocacy and mentoring.
The Center serves as a hub for several programs working in concert with each other to increase parent and family success. Programs include access to community resources, classes in parenting and healthy relationships, life and work place skill development and peer support groups. The Center's comprehensive services allow it to meet each family's unique needs; through the Center's programs families are able to create positive plans for the future.